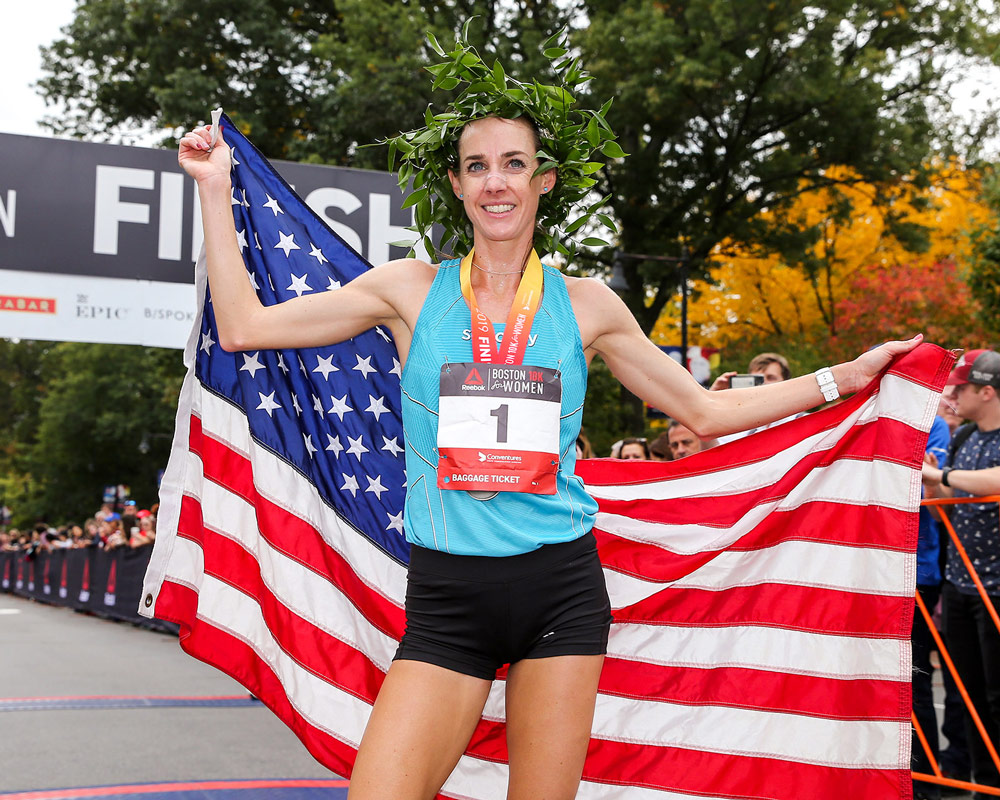 The Rhode Island Native Breaks Away Wins Fifth Title in 31:50
Molly Huddle of Rhode Island won her fifth Boston 10K for Women today in downtown Boston in a time of 31:50, adding to her 2008, 2009, 2010, and 2015 victories. The current event record holder and current US 10K women's-only 10K record holder, Huddle broke away from Kenyan Iveen Chepkemoi after the four-mile mark, and never looked back. Under cloudy skies and temperatures in the low 60s, Huddle was the first of more than 3,000 women to finish today's race. Now in its 43rd year, the event is New England's first and longest running all-women's sporting event.
"I love coming here for this race," said Huddle, sporting an olive wreath and with beads of sweat after her victory. "This race was the first really big race that I won coming out of school in 2008, so it's always been special to me." Huddle recently placed ninth at the IAAF World Championships, running the 10,000 meters in 31:07, and currently holds several US racing records. A group of six women took out race pace ahead of Huddle's 2015 record pace, running mile one in 5:01, and dwindled to four at mile two, with another 5:01 split.
"Iveen and I dropped everybody after two miles I think and after 5K we got worried about beating each other and we slowed a bit. I was surprised how much we slowed down, because the early miles made it feel hard. We were definitely hurting." Huddle and Chepkemoi extended their lead through mile three and four, with Emily Infeld holding them within range, and with thousands of runners cheering them on as they ran in the other direction. The race turned tactical on the Massachusetts Avenue bridge, with Chepkemoi tucking in behind Huddle as they raced back into Boston, passing the five-mile mark in 25:44.
With 300 meters to go, Huddle turned the final corner on Charles Street with Chepkemoi only a few paces behind. "By the time we turned the corner, I just wanted to measure my kick in case she was going to be with me the whole way," said Huddle. "It was just about getting there." "I couldn't sense where she was, but I heard the announcer saying she was close, so I tried to go all-out."
Huddle broke the tape with her arms raised, and was quickly met with a race medal, wreath, and American flag. With the win, the 35-year-old takes home $9,000 in prize money.
Chempkemoi could not have exerted anymore of herself. After finishing she lowered herself to the pavement, exhausted. She was met by medical personnel and taken to the medical tent, where she was quickly released. She finished with a time of 31:56. Behind Chepkemoi was 29-year-old Emily Infeld of Portland, OR, who finished in 32:14.
Infeld won a US title at this event in 2013, and finished fourth in 2014. "It was so nice to be here today and to work hard, amongst a super talented field," said Infeld. "I tried to get out with the leaders, which was definitely too hot of a pace for the shape I'm in, but I was happy overall with my time, really pushed myself. This event is so much fun, there is such great energy. I love it on the bridge, when the women are running past and cheering you on. I was kind of dying at that point – but it gave me so much more energy."
The day comes on a big weekend in the distance running world, one day after Brigid Kosgei's World Record performance in the Chicago Marathon. Her time of 2:14:04 certainly sent some motivation to Boston. When asked if that performance fueled her today, Huddle smiled and nodded. "I was saying 'you better try to run the same pace that Brigid ran for the Marathon for this 10K, that's kind of crazy if you can't do that,' but it shows how fast that time was. It was blitzing fast."
Finishing in fourth place was Notre Dame standout and Boston resident Molly Seidel, in a time of 32:52. Catherine Mwanzau of Kenya finished fifth in 32:58.
More than 3,000 women competed in the race, which has started and finished at Boston Common since its second year in 1978. The first race in 1977 started along Memorial Drive, in Cambridge. Race founder and president of race organizers, Conventures, Inc., Dusty Rhodes was elated with the results of the day. "What a performance by Molly today, and what a day for a race for these thousands of women" Rhodes said, as she passed out high-fives to elated finishers. "This is my favorite part of the day", Rhodes said as the finish clock hit the 1 hour, 30 minute mark, "seeing these women come through with the biggest smile on their face, it's very powerful."
The breaktape was held by women's running pioneers Bobbi Gibb and Sara Mae Berman, who, between the two of them, won the first six Boston Marathon titles ranging from 1966-1971. This year marked the second year of Reebok's sponsorship of the race, which for many years was known as the Tufts Health Plan 10K for Women.
2019 Boston 10K for Women Results
Molly Huddle (35, USA) 31:50
Iveen Chepkemoi (22, KEN) 31:56
Emily Infeld (29, USA) 32:14
Molly Seidel (25, USA) 32:52
Catherine Syokau Mwanzau (20, KEN) 32:58
Paige Stoner (22, USA) 33:30
Aisling Cuffe (26, USA) 33:58
Mara Olson (26, USA) 35:15
Lauren Perkins (37, USA) 35:25
Samantha George (25, USA) 35:35